The STUDIO2
Located in the heart of Berlin, STUDIO2 as part of the International Theatre Institute Germany is an artistic center for exploring performative, documentary and interdisciplinary ideas as well as for teaching artistic techniques at the interface of dance, theatre and performance. STUDIO2 is often the starting point for new artistic experiments and productions presented on Berlin's stages.
It is a place for everyone who wants to move, collaborate artistically and develop creatively. Participation, inclusion and diversity are at the center of our thinking and work. Regardless of age, experience and ability, STUDIO2 offers space for courses and formats aimed at beginners as well as advanced and professional artists.
THE ROOM
STUDIO2 is a 165 sqm (11 x 15 m / 4.40 m high) and bright rehearsal space with large windows on the second floor of Kunstquartier Bethanien. The light linoleum floor and white walls make the studio a suitable place for rehearsal development and experimental formats. You can see a floor plan of the room here.
EQUIPMENT
A sound system with mixing console and CD player as well as RCA connection is available. Chairs and floor cushions can be used. Theater curtains in black and white for blackout are available.
A separate checkroom is available. Storage space is limited. Sanitary facilities (WC and shower) are available.
Bild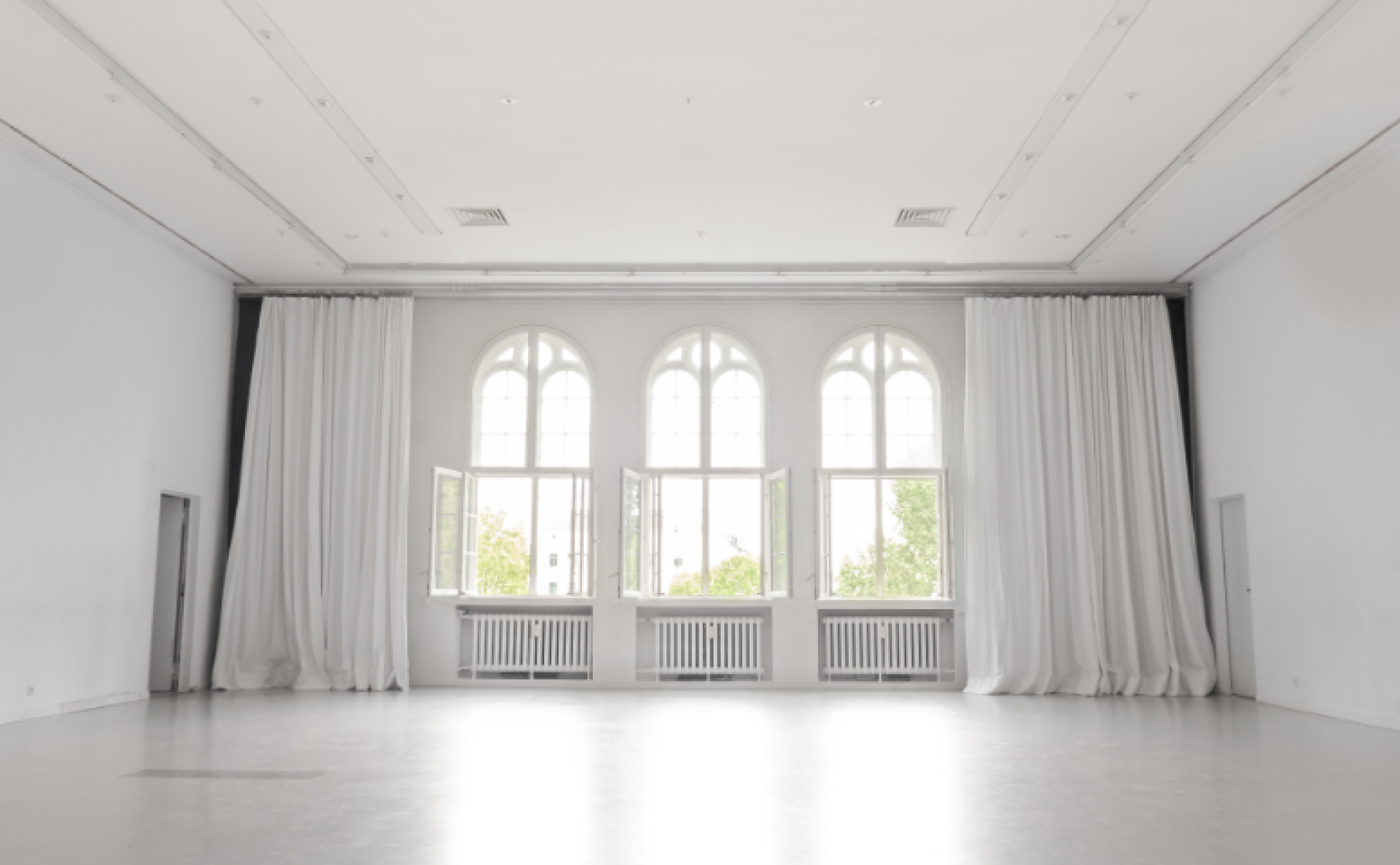 RESIDENCY PROGRAMME STUDIO2
The STUDIO2 residency programme offers artists in various formats the opportunity to explore a topic, research focus or research approach of their choice over an extended period of time.
ENQUIRIES STUDIO2
If you want to use the STUDIO2, please check our calendar below for available times. Send us a short description of your project and ask for your preferred times.
The studio can be used for rehearsals, researches, workshops and showings in the field of Perfroming Arts.
If you would like to offer a course in STUDIO2, please also contact us with a course description and a short vita.
VIDEO DOCUMENTATION
The team around STUDIO2 documents works of artists and collectives, especially performance and rehearsal processes of contemporary dance and theater.
Based on the many years of experience in the field of video documentation of dance and theatre of the former Mime Centrum Berlin, interested parties are professionally advised on the documentation processes and the expected results.
If you would like to receive information about a possible documentation of your work, please feel free to contact us.